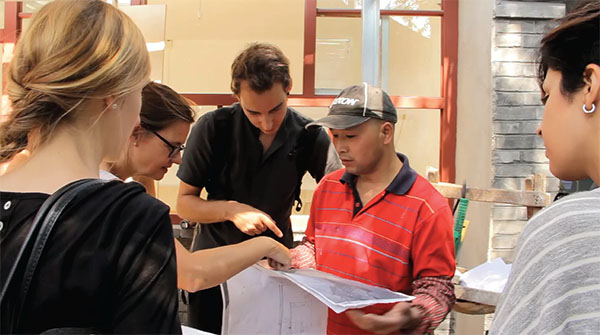 Our Master's program connects well to the contemporary architectural discourse, in terms of its topics, critical-thinking and choice of socially engaged studio topics. In addition it is also fully embedded within the conditions of contemporary architectural practice.
This is best stated in the condition of the school itself, which has its practical counterpart in the Tsinghua Institute for Architectural Design, a full fledged 1,500 person strong design firm that is housed next doors. The combination with, and proximity to, the design institute, of which our dean is also the director, functions as a strong link for critical reflection on practice and its direct implementations.
In addition, the close link to the real profession provides our graduates excellent job opportunities. Following their master's in Tsinghua's architecture school, our alumni currently hold positions all over China, as well as abroad. This includes, besides jobs in architecture, also jobs for government institutions and research positions.
During the 2 years EPMA program we also provide the opportunity to include a 6 month internship, either at one of the over 1,000 independent, Chinese or foreign owned, architectural firms in Beijing, working on real projects within one of the professors' ateliers, or in one of the government owned design institutes.
China is a country with a strong need for skilled design professionals and excellent students can easily find jobs upon graduations.
" The recent Chinese property boom has encouraged many global firms to expand their practices to China. These firms need people who understand global architecture knowledge as well as local design concepts, which have been offered in EPMA program. Born and raised in Indonesia, I pursued my undergraduate degree and spent most of my early practice in the US. Interested in design and nature, I took architecture major and landscape architecture minor in University of Washington, Seattle, USA, where I obtained my bachelor degree in 2008. After some working experiences in USA, I received a scholarship offer from Tsinghua University for the EPMA program. Upon receiving this EPMA degree in 2011, I have been working in DP Architects Beijing - a Singaporean based firm. I think job opportunities for EPMA graduates are immense.''
Audrey Juliana. EPMA 2011. Indonesia.
"I have the fortune of being caught between two worlds. I was born in China but grew up in the U.S. As a result of being a 1st generation immigrant, I speak both English and Chinese. Thus there are some interesting possibilities available in this age of new changes. I finished my undergraduate education at Carnegie Mellon University where I majored in Architecture. Opportunities here are plentiful; I was even asked to participate in a real project after a juror was impressed by my studio presentation. This culminated in a second job offer due to a subsequent project from another architect who was also a juror of mine. In China you will find something that's suitable for you as long as you put effort and dedication into all aspects of your work. I have been very satisfied with the opportunities I've been given and there is definitely a high level of responsibility ahead if you prove that you can handle it".
Wang Lingshui. EPMA 2013. United States of America.